It's been a long time since I last participated in this blog hop from Focused on the Magic, so it's good to start getting back into the swing of things. This week's
Wordless Wednesday's
theme is
Wayback Machine.
Thanks Deb for hosting this blog hop - why don't you stop by and join in.
(I know this week's isn't so "wordless" but it's a post which appeared on
Thoughts From The Dark Side
, my other blog, a while ago which has never been on this blog - and should have been.
Note: All Disneyland photos appearing here were taken by me in 1968.
)
----------------------------------------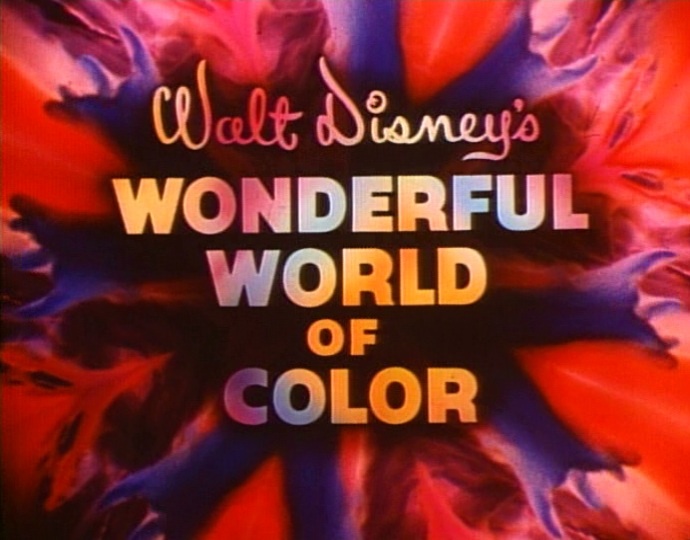 Like most kids my age - in the US at least - I grew up knowing that my Sunday nights would mean watching Walt Disney and Ed Sullivan. Naturally I was more interested in Walt than Ed, though I did enjoy Topo Gigio. But of course it was a different mouse that I looked forward to seeing, and that was Mickey. Over the years Walt Disney's presence on Sunday night was legendary. Although the name of the show changed many times, my favorite segments were always those that showed Walt's little park, Disneyland. I loved watching all of the rides and attractions, and the people enjoying them. The only problem was that Disneyland was on the totally opposite side of the country, so while I enjoyed watching the shows about Disneyland, I never seriously thought I would be there. People really weren't in the habit of flying for vacations yet. And this being the fifties and the sixties, there was only one Disney park.
I watched with great excitement as Walt talked about four new projects though. He told us that a lifelike Lincoln who would stand up and speak was being developed. And how about that ride where you would drive a car through history, from the dinosaurs to the caveman to the present and the future? Or that other history ride where you would sit in a theater which moved from scene to scene from the beginning of the twentieth century to the very modern present of 1964!! And finally he told us about a boat ride through the countries of the world - with little children singing
a wonderful Sherman brothers' song
. (Shhhh ... I
heard
that!)
What made this so exciting for me was the fact that I would
actually
be able to experience all of these attractions! They were being prepared for the State of Illinois, Ford Motor Company, General Electric and Pepsi/UNICEF. They were going to be at the 1964/1965 New York World's Fair, and since I lived in New York City I knew I would see each of them a number of times. And I did.
And then, before school was out for the summer of 1968, my parents (teachers by profession) informed me and my brother and sister that we would spend our summer vacation driving cross country. You know what that meant? We would be in California ... and Disneyland was in California. (Oh yeah, a few other things as well, but ...
Disneyland!!!
)
The end of June came ... school was out for the summer ... and we were on the road! Yes indeed we saw some great things on the way out there, but Disneyland was the "wienie" as Walt would have put it. And then, on July 26th, 1968 the day came that I finally got to go to Disneyland. (I just realized for the first time that 10 years to the day later, my daughter - the current Walt Disney World Cast Member - would be born.) I remember the excitement as we saw the Disneyland sign from the highway ... the highway which had no signs about the park. How exciting it was to finally be in the parking lot, about to have my parents buy that booklet with the ABCDE tickets in it? The wonderful things I saw on my black and white television (we wouldn't have color TV until late in 1969) now appeared before me (as they would say on TV) in living color ... ready to capture with the same Ansco Cadet camera that I had used at the NY World's Fair!
As we walked into the park and underneath the Disneyland Railroad, Main Street and the castle (The Castle) appeared before us.
I couldn't wait to walk down the street and look into all the stores which I had seen on Walt Disney's Sunday night television shows.
How many times had I seen an animated Tinkerbell (who I still insist is a jealous/murderous sprite ... a strange choice as a corporate spokesfairy) splash the front of the castle in an array of color to start another Sunday night Disney show? To me it looked so large and amazing standing there at the end of Main Street - the famous "wienie" Walt wanted in the center of the park.
But of course, the most exciting things were the attractions. I wanted to ride the Jungle Cruise, which I had seen so much of on TV. I had to experience something that was still unique to Disneyland back then - the steel rollercoaster type ride that was the Matterhorn. I couldn't wait to ride the traditional dark rides which were not super scary as they were back home in Brooklyn (at Coney Island), but much more family friendly with Disney characters. And what about Walt's fleet of submarines - or the skyride ... or the monorail ... and the other rides and attractions that I had seen for so long? I had to do it all. But I think the attraction that I wanted to see the most, was the newest. I watched it take shape over the years on the Sunday night tv program, and now I would get to see it in person ... The Pirates of the Caribbean! And I wasn't disappointed. (The Haunted Mansion, which became my all time favorite - and still is - wouldn't be open until my 1969 visit. My son would be
working in the Walt Disney World version
at the moment 1999 became 2000.)
I also had to see the four World's Fair attractions which I had experienced just a few years earlier back at home; Great Moments with Mr. Lincoln (Illinois), The Grand Canyon Diorama on the train trip around the park (Ford), Carousel of Progress (General Electric) and It's a Small World (Pepsi/UNICEF).
It was exciting finding out which type of ticket each attraction required, then ripping the appropriate one out of the booklet for admission. And as always ... the day ended much too soon. I would be back the next summer, and again a few times since I have been married, but nothing can match the excitement of that first time.
Today, as a snowbird/local visitor to Walt Disney World, I get a completely different feeling upon walking in to a park - whichever it is - from the excitement of my first time in Disneyland. Today is more of a comfortable "I'm home again" feeling.
But that first time in Disneyland .... ahhh ... that was something special!
How about your first trip to a Disney Park?